Sixteen

Add Sixteen as a friend

Sixteen will be notified and will have to accept this friendship request, to view updates from Sixteen and their ratings you must follow them.

Remove Sixteen as a friend



About me
total tv fanatic. extreme love for music, indie alternative dance crazed. enjoy movies, but there's nothing like a good ol' sitcom or serial drama. juicy primetime soaps are my absolute guilty pleasure.
Single
About my collections
extensive tv and movie collection. grows by the week. it may be considered an addiction, but at least its healthy.
Lists
Recent reviews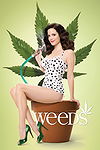 Posted : 9 years, 9 months ago on 30 April 2012 07:21 (A review of
Weeds
)
Throughout the many changes with setting, and cast, and plot points, Weeds still has proven to be one of my favorite series no matter what. Its scandalous plot points, with some predictable twists and turns, mixed with a great dose of dark humor that always hits the right spot. I am so psyched that it has received another season pick up, but I wouldn't mind if it turned out to be the last. Nothing good can last forever, especially on TV, but it would be great to see it go out with a bang.. a well thought out bang.

0 comments,
Reply to this entry
Movies
TV
DVDs
Comments